Oilfield jobs are among the most dangerous of all occupations, and falls are still a leading cause of death for oil and gas extraction workers. While safety practices have certainly decreased the number of oilfield worker deaths over the last 15 years, they haven't made much of a dent when it comes to deaths by falls.
Key questions to consider: Which oilfield jobs are at highest risk for falls? How can you protect yourself from falling on the job?
6 Oilfield Workers Die from Falls Annually
According to the Centers for Disease Control and Prevention ("CDC"), around six oil and gas workers die each year from falling. A recent CDC analysis of 2005 – 2014 OSHA investigations found that a majority of oilfield worker fall deaths happen in Texas, with North Dakota, Oklahoma and Louisiana also reporting high fall fatalities.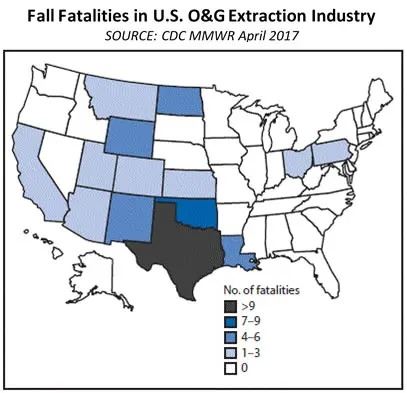 Derrickmen Handling Pipe at Highest Fall Risk
How do oilfield falls happen? According to the National Institute for Occupational Safety and Health ("NIOSH"), the oilfield workers most at risk for falls are those doing repetitive, physically demanding work that requires high concentration.
In addition, miscommunication involving equipment movement or vehicle movement is another major cause of falls.
A majority of oilfield worker fall deaths happened during well drilling activity (60%), with the most fatal falls happening from the derrick board.
35% falls from derrick board
13% falls from rig floor
8% falls from derrick ladder
5% falls from offshore rigs
5% falls from stabbing board
Derrickmen removing or inserting the pipe into the wellbore from the derrick board are at the highest risk for falling. Nearly half (44%) of fatal oilfield falls happen while an oilfield worker is rigging up, rigging down or handling pipe.
Rigging up / rigging down 22%
Handling / tripping pipe 22%
Maintenance 6%
Welding 5%
Stabbing 5%
Picking up sucker rods 3%
Picking up tools from scaffold 2%
Harness Failures Cause 86% Oil Rig Worker Fatalities
Of all the fall deaths examined, 86% were using fall protection equipment. However, in 63% of cases using a harness, the harness wasn't attached or anchored to anything. In 29% of the cases using a harness, the harness equipment failed. Three percent of the cases involved a worker wearing the harness incorrectly.
How to Prevent Falls in the Oilfield
Accidents happen. With the intense workloads and fast pace of the drilling site, accidents come with the territory. While we would like to be able to prevent falls, the most realistic preventative actions we can take are to make sure fall protection equipment is completely functional and that workers know what to do should they, or another worker fall.
Supervisors must make sure that workers are well trained in how to wear a harness.
Workers must make sure their harness is the right size.
Check harnesses and lanyards for damage every day. Throw damaged equipment away immediately. Don't just toss it aside. Use the NIOSH rig check for harnesses and lanyards to make sure your equipment is fully functional.
Before beginning a drilling operation, drillers and derrickmen must be sure to do both a verbal and visual check of all fall protection equipment. Derrickmen must double check that they are tied off with the derrick board restraints and the self-retracting lifeline ("SRL").
Additionally, oilfield workers should know how to rescue themselves and other workers who have fallen and are free hanging by their harness. Many problems occur at this point. The CDC's video on fall protection is a good resource every oilfield worker should watch.
Is the Oil and Gas Company Responsible for Your Injury?
If you or a loved one has been tragically injured or killed by a fall in the oilfield, the oil company may be responsible.
Supplying fully functional harnesses and appropriate training on harness use and fall protection is the job of the company or contractor. When a company's negligence causes injury or death, the injured worker or surviving families deserve financial compensation.
Contacting an experienced oilfield injury lawyer as soon as possible after an accident is the most important thing you can do to ensure that you receive maximum compensation for your medical expenses, lost wages, pain and suffering or loss of companionship.
Our Williams PLLC oilfield injury lawyers are happy to answer your questions. Williams PLLC oilfield injury attorneys represent injured oilfield workers across Texas, North Dakota, the Gulf of Mexico and across the nation. For a free, confidential case evaluation, contact Williams PLLC today. Connect with us online or call us (361) 866-5535.